Tales from the Dragon's Cave... peacemaking stories for everyone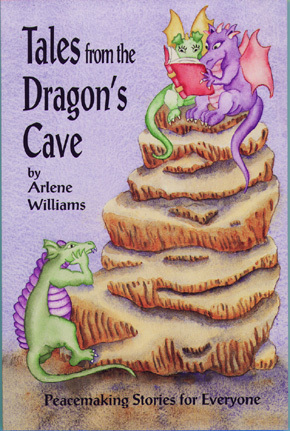 Available as an ebook for iPad, Kindle, Kobo, Nook!
In her new collection of fairy tales, author Arlene Williams uses an unlikely group of characters to teach children nonviolent ways to solve problems. Dragons do not sound like natural peacemakers, but then it seems that we've misunderstood dragons for a long time. They are gentle souls at heart, and who would know better about resolving problems than creatures who have been enmeshed in conflict since the beginning of myth?

This book has been required reading for every young dragon for centuries. Now, it is available to 21st century human children, too... those very children who have been raised on a diet of media gore and violence. Dragons have been there, done that. They know violence doesn't work. Even better... with this book, they show us what does.

Using fairy tales for lessons, the dragons guide the reader through "A Dragon's Path to Peace." It's a four step process: building self-confidence, improving communication, encouraging cooperation and using problem solving techniques to find the solution where everyone can be a winner.

This collection of twelve stories is enjoyable just for the stories themselves. But by combining the proven principles taught by professional conflict mediators with engaging characters in original settings, Ms. Williams is presenting a powerful teaching tool for home, school or church.

The book has been enthusiastically reviewed by many national peace education/conflict resolution groups and contains a foreword by the Co-Founder of the Creative Response to Conflict program in Nyack, New York. A resource list of conflict resolution organizations is included at the back of the book.
"The art of the storyteller is a subtle one, and this is especially true when the stories that are told are designed to teach as well as entertain, and especially when they must reach an audience of any age. In Tales from the Dragon's Cave, Arlene Williams establishes herself as a master of the art, with stories that balance reality and fantasy, entertainment and education, and sophistication and clarity in a way that will appeal to listeners and readers of any age, from the youngest toddler through the "grumpiest old man". This a wonderful book as the stories are delightful, informative, and exceptionally well-designed for either oral telling or reading."
James Boskey
The Alternative Newsletter, November 1996

"What an enjoyable way to visit or revisit our creative conflict resolution skills! Enjoy the dragons! Enjoy the journey!"
Priscilla Prutzman, Co-author
The Friendly Classroom for a Small Planet

"Many public schools are currently involved in programs to instill self esteem, values, and conflict resolving techniques in their children. Tales from the Dragon's Cave is a valuable adjunct to these programs. Teachers and other professionals can use the book as an introduction to other more academic materials."
Washington Counseletter, April 1996

"At a time when our kids are inundated with negativity and violence, it is refreshing to read hopeful tales which help teach children to feel good about themselves, to look for the good in others, and to seek peaceful solutions to the problems they will inevitably confront. This book reveals important messages for all of us."
Pat Montandon, Children as the Peacemakers

"The stories read very easily and certainly captivate the imagination! I think young children will immensely enjoy reading or listening to these tales. I very much appreciate the depiction of both girls and boys from many different cultures as the protagonists of the stories."
Andrea Spencer-Linzie, Jane Addams Peace Association

"An excellent resource for teaching peace, conflict resolution and nonviolence. The stories are all creatively and vividly told and impart valuable lessons without becoming overly moralistic or preachy. I will recommend this book to any parent, educator or counselor seeking to teach a different path for today's children."
Carol Williams, Peace Links

"Deals with timely issues in an imagination-generating way. These stories will help youth and adults develop and use the skill of creativity--a skill necessary for conflict resolution."
Diane Grams, Executive Director
The Peace Museum in Chicago

Step One: The Highs and Lows of a Dragon's Esteem

Of Dragons And Diamonds
The Master Of The Marsh
Dragon Bluff And Blunder

Step Two: Dragon Words

Fairy Talk
When A Dragon Says No
The Dragon Stick

Step Three: Dragons Can Cooperate!

Pixie Tuggles
The Little Caballero
To Build A Dragon

Step Four: A Win for Every Dragon

Behind Each Wish
Dragonstorms
Three Wise Dragons
From: The Little Caballero

Once upon a time, beneath a sky bright with stars, a young boy rode down a narrow pathway on his pony. He was a lowly stable boy from the Casa de Caballeros, a great hall of famous knights. His name was Pablo. Tonight, however, he called himself Sir Pablo. He clanked along in a suit of armor, much too large for him, hoping to go unnoticed as he searched for the King's army.

Ahead of him, the moon was setting behind the western hills. Against its light, he could see the silhouette of a face, crude and terrifying. It was the face of the stone giant.

For a hundred years, that face had only been a rocky ridgeline above the kingdom as the giant slumbered deeply in an ancient wizard's curse. Tomorrow, though, was the hundredth day of the hundredth year and on that day the giant always woke. He would be awake just until sunset, but in that time he could destroy the whole kingdom. That's why the King and his army were preparing for battle. Pablo wanted to be among them.

All at once, a voice croaked through the darkness, "Who are you out on this wicked night?"

The boy stared through the gloom at an old man on the trail before him. He was dressed in a ragged white tunic and bent over a gnarled wooden cane. "I am the brave caballero, Sir Pablo," Pablo replied with a voice as deep as he could manage.

The old man looked at him with squinting eyes. "Why that's just a pony and you're no bigger than a boy."

"I'm not a boy," Pablo said hastily. "I'm just short."

"Short is fine, if you're smart," the old man said with a wink. Then he shook his head. "Those fools. I tried to warn them. A whole army cannot defeat the giant. I know. I was there."

"You were there? A hundred years ago?"

"I was just a boy," croaked the old man, "but I remember. Nothing could stop that giant. No sharp sword. No swift arrow. Not even burning oil can harm him. He's made of stone."

The boy shook his head. "Something must stop him."

"Not their meager weapons," the man snorted. "I tried to give them this. None would take it, but perhaps you will."

The boy reached down to accept what the old man held in his hand. He studied it in the darkness. "It's only a rope."

"A silken rope," the man corrected. "Strong enough to trip a giant, even one made of stone."